Colt PeaceMaker SAA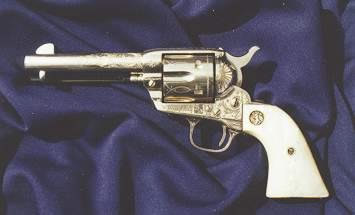 Welcome to this page about a 1917 Colt PeaceMaker that belonged to Bill Angel, Senior.
Bill was a San Diego policeman for over 20 years. Bill began his career with the San Diego mounted patrol in 1934.
Peacemaker
It was during his first year on the force that he purchased this beautiful example of the most famous Colt of all - the PeaceMaker

Bill loved this Colt PeaceMaker and wore it many times while on patrol. You can see the beautiful pearl handle sticking out from the holster in Bill's photograph on the left.

The Mounted Patrol was always popular with the children of San Diego as you can see in the photograph on the right. This photograph was also used as the cover shot for several magazines in the late 30's.
The Factory engraving is absolutely the most beautiful example of the workmanship.